Welcome to our Divi review! In this article, we'll take a deep look into the inner workings of Elegant's Divi theme, examine the features it offers, talk about how to use it, look into the pricing, and finish up by giving you our verdict on whether or not it's worth the investment.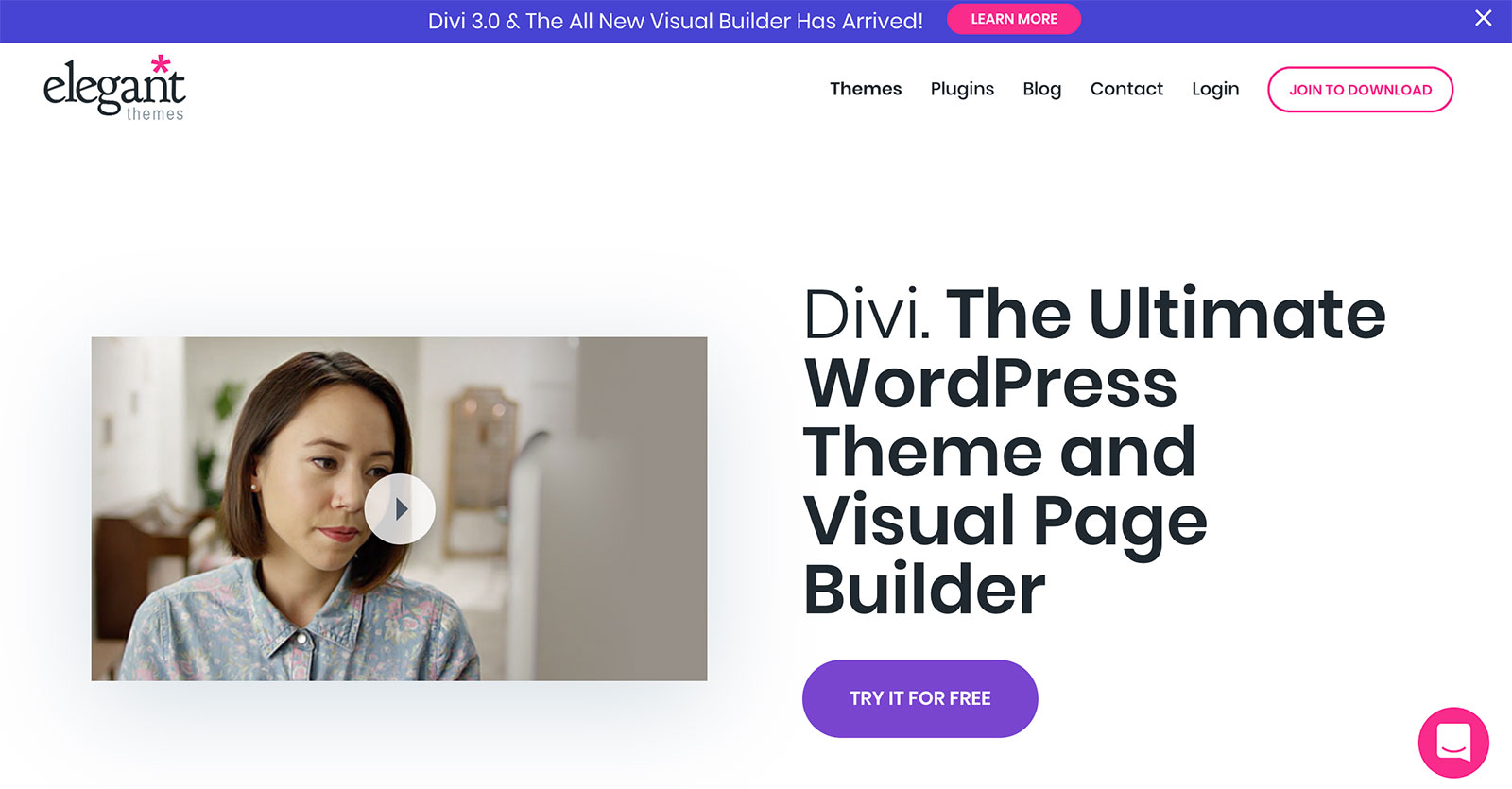 Divi Theme by Elegant themes
As mentioned, Divi is the flagship creation of Elegant Themes. It's what's commonly referred to as a mega theme. In other words, it's much like a standard WordPress theme, but better, and bigger… a lot bigger.
Divi's can serve multiple purposes and fit any kind of website. Basically, no matter what type of site you want to build (and no matter the design as well), Divi promises it can handle the job.
back to menu ↑
Design & How to use it?
Since Divi is a premium theme (more on the pricing in a minute), you can't find it via WordPress.org's default theme directory. Instead, you have to go to Elegant Themes, join the club, and get your own ZIP file containing the theme.
Once you have the ZIP file, it installs like any other theme — through the panel found in Appearance → Themes → Add New → Upload Theme.
When you're done with the installation and have the theme active, you can proceed to the theme's main settings. Divi has its own menu in the main sidebar where you can find the link to that settings panel: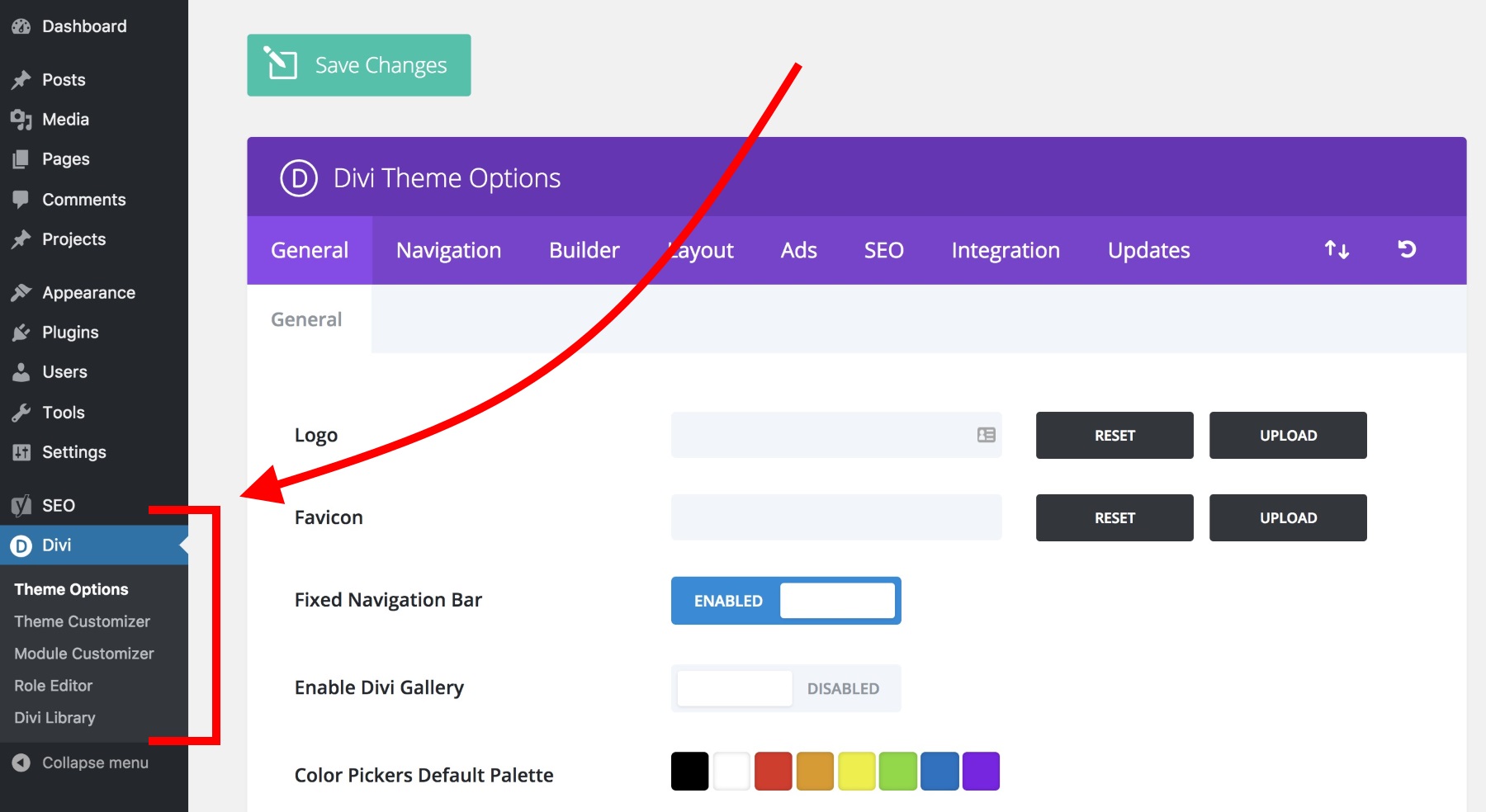 There's surely a lot of stuff you can adjust there, but if you can't be bothered to go through all that you don't actually have to. Or, at least, adjusting all these settings one by one doesn't have to be the first thing you do with Divi.
The best way to actually get to know Divi is to create a new homepage for your website. That's exactly what I'm going to do in this Divi review.
It all works just as you'd expect. First, you need to create a blank page and assign it as the front page in Settings → Reading. Next, you can proceed to edit the page with the Divi Builder.
The way the page builder portion of Divi works is very similar to the other builder solutions on the market, such as Beaver Builder or Elementor.
Here's a quick rundown of Divi's page organization structure:
Your page's content comprises sections… which can contain one or more rows… which in turn can contain one or more columns… which finally contain individual content blocks.
Sounds complicated, perhaps, but it's actually pretty easy to comprehend once you start working with Divi. Here's an example page structure (you can see all of the essential elements — sections, rows, and content blocks inside columns):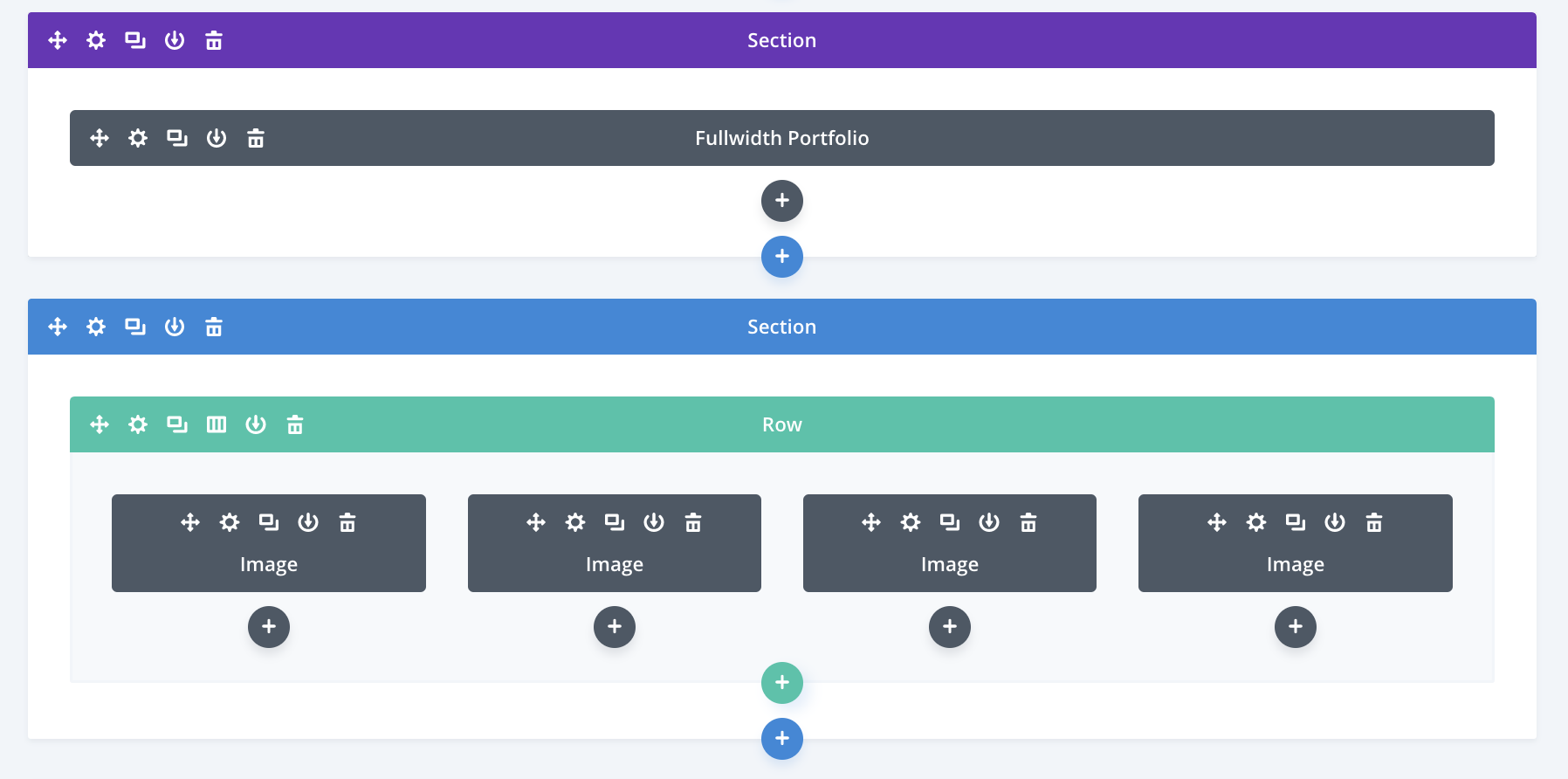 Juggling all of those rows, columns, and content blocks is how you construct a page with Divi.
To get started, proceed to edit your homepage, and click on the big button that says Use The Divi Builder.
back to menu ↑
Feature set of Divi
As I mentioned earlier, the biggest selling point of Divi is it's an all-in-one solution for building the exact website design you need — and it also offers a nice package of functionality to go alongside.
I already listed some of this above, but I want to give you a more comprehensive list here, just so you can realize how many features Divi really packs:
It allows you to design/build your site in real time. There's a live preview of everything you're doing. There's no need to fill out a form on some settings page, click 'Save' and then refresh the page to see if the effect is okay. Divi does away with all that.
Everything you see on the page is customizable.
Text editing is done in a click-to-type manner — basically, it works just like an MS Word document.
The layouts are all mobile responsive.
You get to use multiple rows, columns and content elements.
Divi comes with more than 20 pre-made layouts out of the box.
You can save your layouts and export/import them to use on other sites.
You can save your own global elements, which is handy if you have something you'd like to use multiple times throughout the site.
Nearly everything works through drag and drop.
Last, but not least, the library of content elements available is really impressive: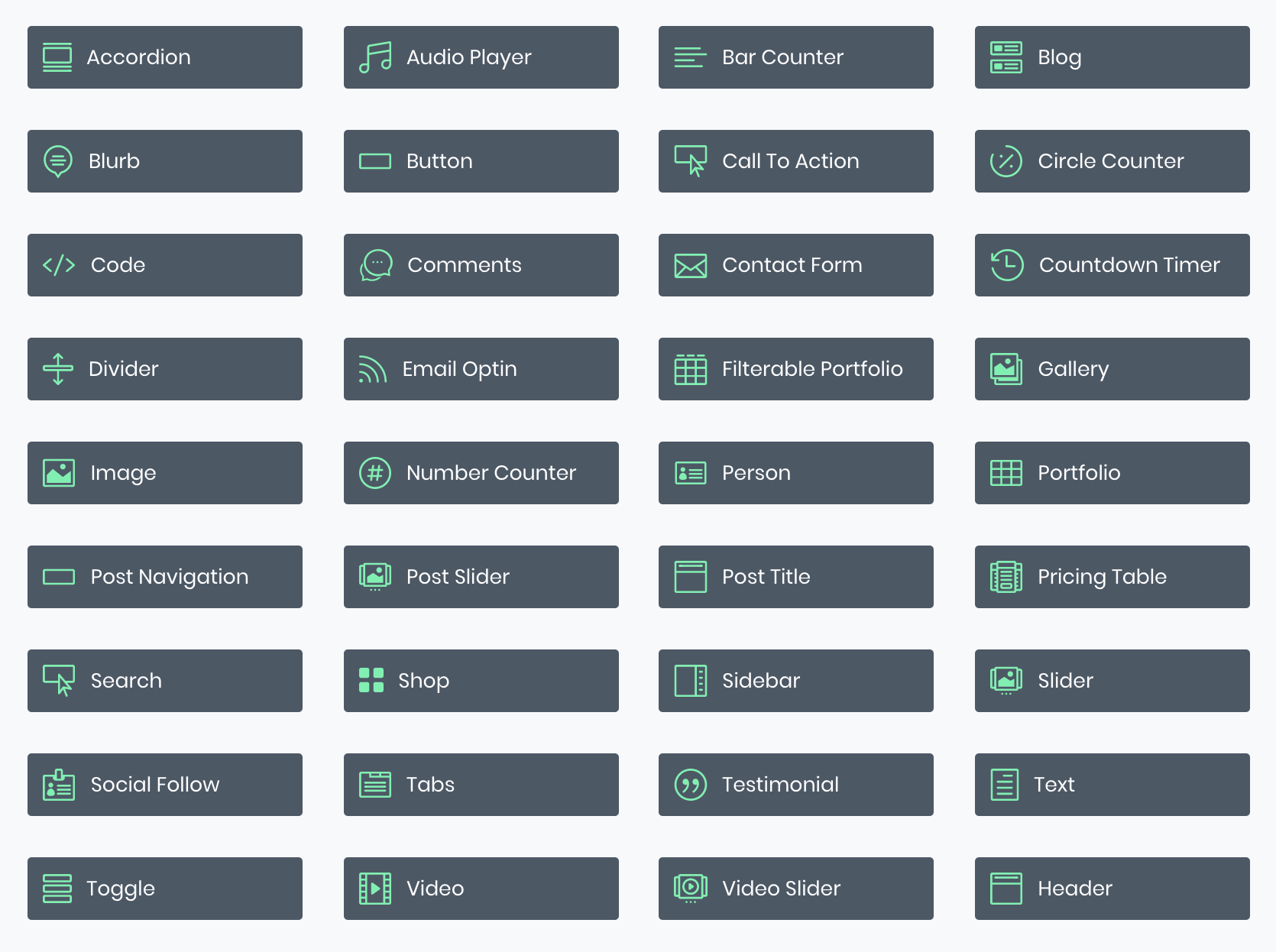 These alone are more than enough to build pretty much any type of website, but, surprisingly, when you start sniffing around looking for what else is there, you'll find things such as Divi's Module Customizer (where you can alter how each of the standard content modules looks), or Divi's great split-testing module.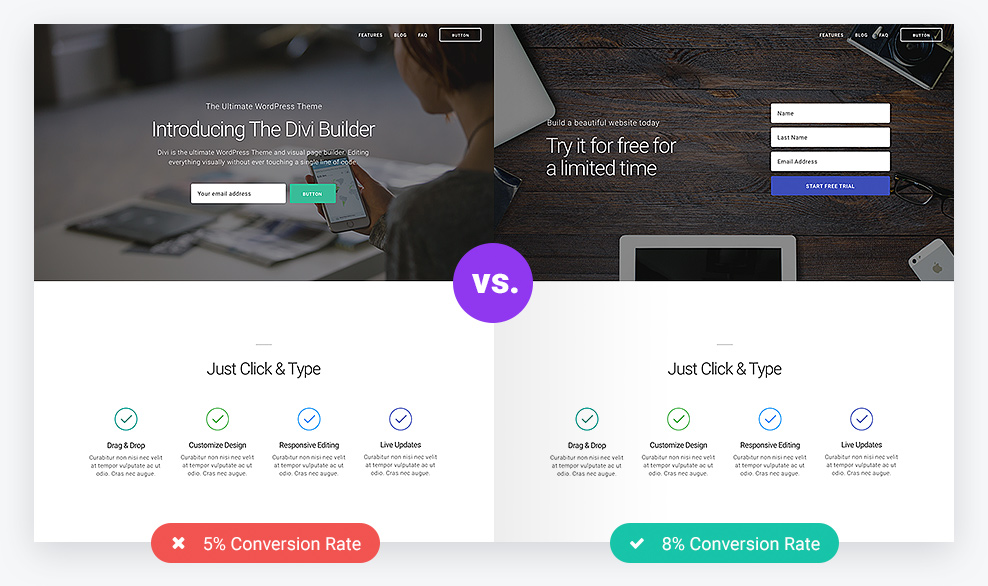 For instance, if you're on the fence about which specific block of text you should use on your homepage, you can use them both and see which performs better.
Divi also comes translated into 32 languages — with right-to-left languages included, too.
back to menu ↑
Pricing details
The Divi theme is a premium product, but the pricing model is an original one in the WordPress space. Basically, instead of paying for the theme itself, you buy access to Elegant Themes' whole catalog of themes and plugins.
Luckily, this doesn't turn out to be that pricey. Currently, the membership comes in two flavors: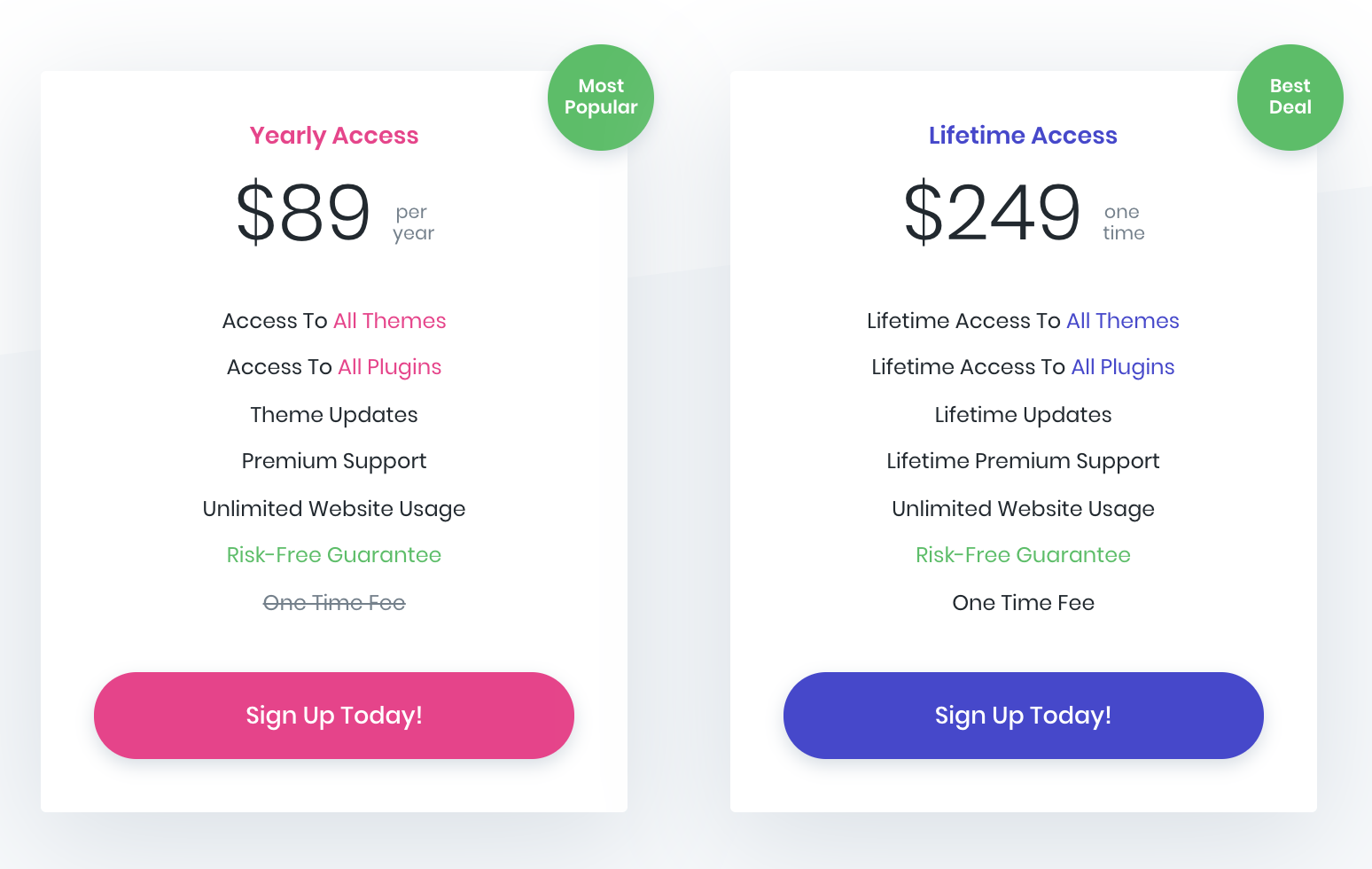 For that price, you get access not only to Divi, but also to all of the other themesand plugins of Elegant Themes.
back to menu ↑
Competitors Themes
back to menu ↑
Final Verdict
Specification:
Divi Theme
WP Theme

| | |
| --- | --- |
| Author/Company Name | Codecanyon |
| Launch Date | 25-Oct-2019 |